"That's the thing about the Paranormal world—the outside never reflects the wickedness within."
I have received this review copy for free. My opinion remains my own.
Today is officially my stop in the Vampires of Moscow Blog Tour, so here I bring my review! This is the first book in the Blood Web Chronicles series, co-authored by N.J. Simmons and Jacqueline Silvester under the pen name Caedis Knight.
Chronologically, Vampires of Moscow is not the first piece of the story. There is a prequel novella called Sirens of Los Angeles, and I recommend reading my review of it as I touch upon aspects that I'm not repeating below. I also added some more information about the authors and about the series at the end of this post, for those interested!
Saskia de la Cruz is a Verity Witch – her only magic being that she can tell the truth from a lie.

As an investigative reporter for The Blood Web Chronicle, the biggest news outlet on the paranormal dark Blood Web, Saskia spends her days cracking twisted para cases hoping that someday, some case, will bring her closer to finding her missing sister.

In snowy Moscow drained corpses of illegal workers have begun to turn up, with hundreds more reported missing. When Saskia is sent on assignment to investigate an oligarch Vampire crime ring that might be behind the deaths, she plans to get in out of the city's frozen grasp quickly…preferably with her neck intact.

But beautiful ballet dancer Konstantin Volkov and his wildcard brother Lukka complicate things. The vampire brothers have their own reasons for solving the string of murders, reasons that conflict with Saskia's mission. Soon, Saskia finds herself enmeshed in the city's glittering web of crime, passion, and violence, where truths and lies are one and the same.
I want to start off with saying how much I love this book. I read quite a lot of YA books, but sometimes I just need something more mature without it being about 40-year-olds, you know? And really, this series captures that really nicely. The main character is in her early twenties, clearly showing she is a responsible adult, but still pretty young.
Something I mentioned in my review of the prequel novella is Saskia's sex positivty. She treats sex like a normal pleasure, but doesn't present herself as something people would perceive as a "slut". This book again really expanded on it, showing how a person can just love sex and have it a lot in a healthy way. I really appreciate seeing that, as in a lot of books people either shy away from being super sex-positive / being confident in their sexual desires, or they have sex with everything and everyone just for the heck of it. There is never an inbetween, but Saskia is.
The writing in this book was super good. In contrast to how the prequel was written to draw you in, Vampires of Moscow was written to grab you and keep you in. When I finished reading, I was actually frustrated that there wasn't more yet. This is a series I could binge back to back (which I might actually do when all books are out.)
The last thing I want to touch upon is the characters. Saskia's character is established in Sirens of Los Angeles, but with the time jump of eightteen (18) months and the overall story, there is a lot of character development going on that flows naturally. None of it feels forced or too slow, it feels logical, and I love that. Vampires of Moscow also presented amazing secondary characters, all being strong and well established, even the ones that got very little page time. They aren't there to fill a gap into the story, they rather added to it, making the whole book and reading experience a lot nicer.
I highly recommend this series. It's mature without being too adult-y, it really keeps you reading and with all the extensive lore on all the Paranormal races, it just feels really complete. I do recommend reading the prequel novella first, but in theory you could start your Blood Web Chronicles journey with Vampires of Moscow, though it would leave a few gaps in your knowledge.
Overall, super great book and I look forward to the next installment!
More reviews of books by this author.
Goodreads | Amazon UK/US/DE/NL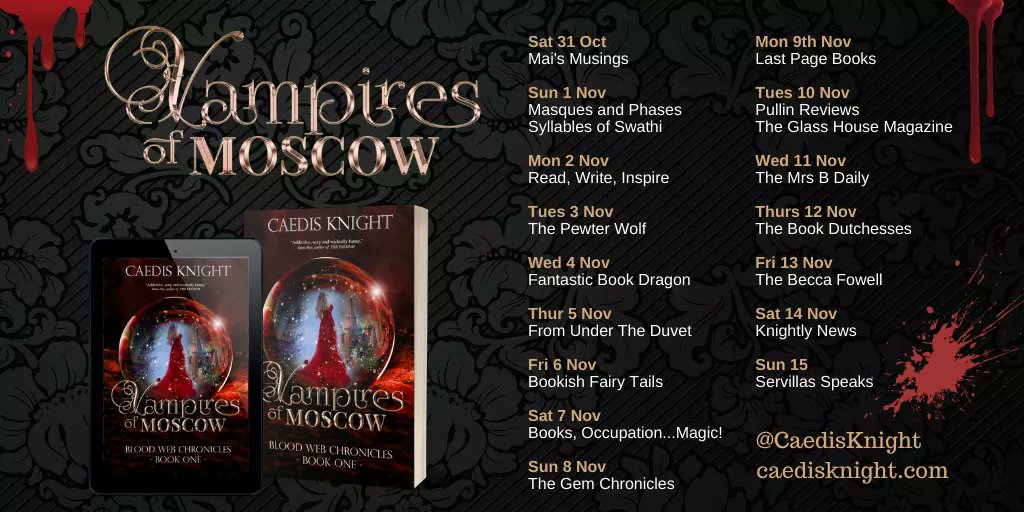 ---
Content warnings: The Blood Web Chronicles series is an adult paranormal romance series containing profanities, gory violence, and scenes of an explicit and diverse sexual nature. With this in mind we recommend the series to readers aged 18 and over. Although the writing is very much for adults, the themes remain relatively light.
All links in this post marked with * are affiliate links. This means that at no extra cost for you, I get a small commission for every purchase made through these links.
---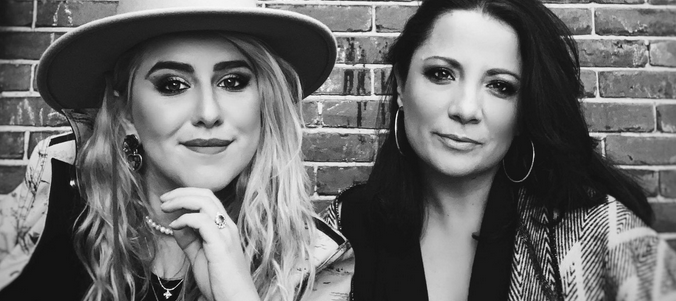 Caedis Knight is the paranormal romance pen name of two established fantasy authors Jacqueline Silvester and N J Simmonds. They joined forces in 2019 when they saw that readers were looking for steamy paranormal stories with more diversity, more sass, and set outside of the US. In 2020 they launched their first series BLOOD WEB CHRONICLES, with book 1 VAMPIRES OF MOSCOW and the prequel novella SIRENS OF LOS ANGELES released 15 October 2020. The series comprises of six books and two novellas, most of which are set in Europe.
Jacqueline Silvester is the author of the Wunderkids trilogy, and has worked as a screenwriter and producer on multiple cartoon series. She is a professional script-doctor and script consultant, specialising in animation, concepts, and TV bibles. N J Simmonds is the author of fantasy trilogy The Indigo Chronicles (BHC Press) and also writes comics for Big Bang! Manga. She began her career in glossy magazines and is now a CIM qualified marketing consultant, lecturer and public speaker.
Both authors are proud of managing the full BLOOD WEB CHRONICLES experience themselves. The book covers and film trailer were designed by Jacqueline Silvester and this website and logo created by N J Simmonds.
---
About the series
Dive into a fantasy world hidden among our own – a dark world full of vampires, witches, werewolves, fae, shifters, ghosts and mermaids. Co-authored by two established fantasy authors, Jacqueline Silvester and N J Simmonds, the Blood Web Chronicles series is perfect for fans of Crescent City, True Blood and Veronica Mars.
Saskia de la Cruz is a Verity Witch – her only magic being that she can tell the truth from a lie. As an investigative reporter for The Blood Web Chronicle, the biggest news outlet on the paranormal dark Blood Web, Saskia spends her days cracking twisted para cases hoping that someday, some case, will bring her closer to finding her missing sister. Each book centers on a different European city, and a different paranormal crime, and are supported by a prequel novella set in LA and a Christmas special in Lapland.
With vibrant characters, page-turning suspense and steamy romance, this new series has been dubbed by early readers as "a fun crime-solving sexual adventure across Europe." The series is classified as 18+ due to adult content. Book 1 in the series, 'Vampires in Moscow' (along with the prequel novella 'Sirens of Los Angeles') is available from 15 October 2020.
"N J Simmonds and I have lived all around the world and speak six languages fluently between us," explains Jacqueline Silvester. "We wanted to bring our experiences of living in big cities such as London, Berlin, Moscow, Paris and Barcelona to our stories. It was important that we reflected the true grit of urban life in our paranormal adventures."
"We also wanted to create a diverse and unique series," adds N J Simmonds. "We enjoy being inventive with our paranormal characters and adding a bit humour – we write the kind of books fans of TV series True Blood and The Boys would enjoy."